Laughton King Offering "Seminars on Tour"
For Schools, Teachers, Parents and Community Agencies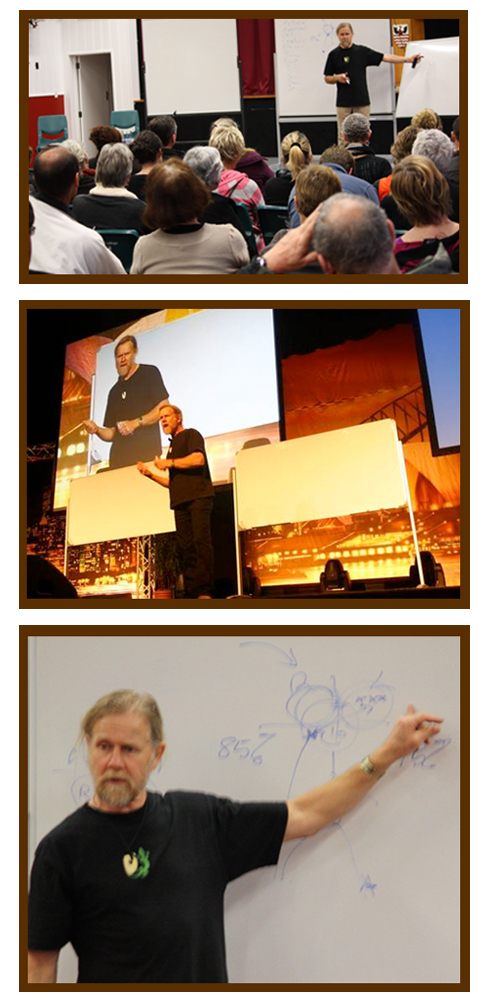 "Being dyslexic, being academically qualified, as well as being professionally experienced, I am in a reasonably rare position."
Laughton King has worked with children and parents in schools and their homes throughout New Zealand over the last thirty-five years. He has published in parenting magazines all around the world, and is well-known as a public speaker and trainer.
He offers short seminars to teachers, parents and those working with children and young people regarding dyslexia and the learning difficulties associated with this common thinking style.
As a dyslexic person myself, I have a fair understanding of the nightmare that many of these children are living through …. there are probably five or more in every classroom in the country.
Taking his life-time experience as a 'dyslexic learner' and his thirty years as an educational, child and family psychologist at his Whangarei practice to the road, he has spent the last four years touring New Zealand, visiting both cities and the smaller centres offering short seminars to local communities – teachers, parents, specialist educators and those working with children and young people.
Laughton King has ironically become an expert in his area of weakness (language, and dyslexia) and he now recognises that much of the problematic behaviour we see in children is directly a product of the adults' own lack of understanding of the language they have inherited – and use daily in good faith.
We label the children as having 'conduct disorder', as being 'non-compliant', as having 'oppositional defiance disorder', Auditory Processing Difficulty, or as being 'dyslexic' – (we blame the kids) – and spend our energies trying to fix, retrain and otherwise modify or re-programme the behaviour of the children.
In his presentations Laughton King demonstrates clearly and simply how we unwittingly create these problems ourselves, and how we can do it differently.
There is nothing 'wrong' with the child – just as there is nothing 'wrong' with a diesel engine – we just need to learn that it works differently from a petrol engine, and needs different fuel.
Laughton King's Seminars – 'Dyslexia Dismantled'
Having delivered over 400 Ón Tour' seminars throughout New Zealand in the last four years, Laughton King is now based on the coast near Whangarei.  He is available for seminars, staff-training, conference presentations and workshops throughout NZ and Australia.
Seminars range from 2  1/2 hours to 6 hours, and involve three major components:
Developing an understanding and pictorial model of 'dyslexia', and recognising the difficulties in establishing a definition or a test..
Looking at the implications for the child – the child's experience, and disengagement.
Looking at the implications for the teacher and parent – what to do, and what to stop doing.
This allows both parents and teachers to identify the children in question, to understand and perceive them differently, and thence to respond to them more usefully.
The gains for both the children and the adults are marked, and immediate.
IN A NUTSHELL ….
"If we continue to see Dyslexia as being merely a reading and writing problem, we will continue to deprive these people of any real understanding or support in terms of the extent and depth of their difficulties.
When we recognize that, in common with persons born without hearing, they have a greatly reduced internal language-processing ability, we will begin to understand the real implications of the 'dyslexic' state.
Whereas most of us use internal dialogue (self-talk) to perform a myriad of functions – to self-monitor, to remember, to process information, to compare concepts, to project, to prepare, and to label, amongst others – the 'dyslexic' is more singularly reliant on the functions of his 'pictorial' brain.
The capacity to 'self-talk' using language could be regarded as being basic to academic functioning. With a diminished ability in this regard the 'dyslexic' person is at a social and educational disadvantage, and is frequently confused, and less able to 'work things out' using language.
"More than being a 'pictorial thinker' the dyslexic person is 'dys-lexic' in that he has less natural ability to use language as a thinking tool."
---
VALIDATIONS
Samples of recent Feedback:
Hi Laughton. Thank you for yesterday's presentation. It is difficult for me to accurately describe the effect you have had on the staff who attended, other than to say I have been approached by at least 20 who all stated it was the best PD they have ever attended, and by far the most thought-provoking. I include myself in this group too! Gary
Many thanks for a most delightful evening. I enjoyed myself very much. Today is the first day in my 52 years that I feel that I belong in the world. Without the understanding that I received last night I would never have felt this good. I have gained a greater understanding as to why I am able to teach my Electro Technology Industry Training Organisation candidates as easily as I do. It's because I have a wonderous male brain. I am celebrating this discovery by being able to now state "I need this said like this". Already it has made things clearer for my partner's language-dominant mind. He is really interested in being able to understand my diesel world so we are having fun trying new ways of communicating. Many many thanks for your wonderful insights. Kay
'One of our parents attended your course and she came back absolutely ecstatic about the info you had given her to work with her son. The changes at home are starting to already be apparent at kindergarten and she had a lot of light-bulb moments during your talk. So thanks again'. Lynne
'I've just had a conversation with my Teacher Aide who attended your evening last night at Victory School, (Nelson) and she raved about you and your presentation.' Pam
'I attended thinking I was going to learn about my son, but came away with a much better understanding of my own life. For the first time it all made sense.' Brian. Carterton.
'Hi, Can you please add me to your database as I bought 3 of your books at South Intermediate. It was an excellent evening and have already put into practice many of the things you suggested and things in our house hold have changed – love the 3 minutes in the dark. Would like to know when else over the next few months you are speaking in CHCH as many people I have talked to would like to hear you speak.' Raelene
'Hi Laughton, Last night was great. I've been mulling over bits of it all day'. Glenys
'Hi Laughton, My sister in law informed me about a seminar of yours, which she attended at Halswell School last week. From what she told me, I am disappointed I missed it. She came away inspired. I home-school my son and we are members of a couple of home-school groups. I believe your talk would be of benefit to members of these groups.' Linda
'Dear Laughton, Just wanted to thank you for last night at Halswell school. This morning I have been able to find the words that clarify the benefits of our chosen multi-sensory approach to 'picture' learners and thinkers. I also feel that the petrol engine thinkers will benefit greatly from tapping into their emotional, intuitive and creative side'. Liz
'Hi Laughton, Wow have you got our staff thinking. Thank you so much for your presentation on Tuesday. You have really opened the staffs eyes as to the impact our teaching and 'phrasing' of instructions really affects our children day to day. Many of the staff have commented they are coming to the community night on Monday'. Emma
'Dear Laughton, Thank you so much for today. I am so thrilled that you have turned up out the blue and moved our staff to a new level of thinking. I really believe they will come in tomorrow and think more carefully about their class. I hope many other schools invite you to do what you have done for us. See you soon'. Penny
Click here for information about organising a seminar with Laughton King